There is no doubt that many have heard of  Hangouts, Google's messaging service,  however few users dare to take the big step of  changing their favorite application for calls, video calls and text messages,  for this great program , which offers many more advantages than many of its competitors, and which is also completely free and multiplatform.
When we begin to compare Hangouts with other applications of the same type, one might think that the average user is "hooked" on a certain program more for advertising than for its qualities or performance,  since many of the advantages that Hangouts offers are not offers none of them.
The mere fact that we can use Hangouts on all the devices we have, including  iPads, iPods, iPhones, tablets and smartphones with Android , as well as  computers with Mac, Linux and Windows,  already offers us a very clear guideline of the possibilities that we open Google Hangouts.
If you want to  know more about Google Hangouts  to see how it can be useful for our activities, just keep reading the article.
What is Hangouts?
In the most colloquial form of English,  the word Hangout is used to designate a place to hang out,  that is to say a meeting in a club or similar, being the most used translations of the term  "meeting".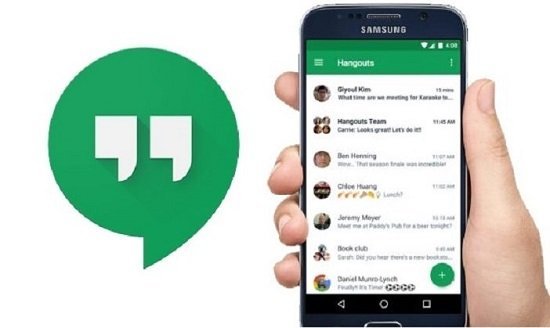 Basically this is what Hangouts is about, meeting in a place, of course virtual, to  develop a meeting with others to discuss different topics or talk about hobbies and others. Of course, it also offers the possibility of using it in the business world to organize meetings and meetings, all with high-quality video and audio.
Best of all, to start using this service,  all you have to do is have a Google account, in  addition to the Google video chat plugin.
The origins of Hangouts
Video calls have long ceased to be something more related to science fiction than to everyday reality, positioning themselves as a real alternative to traditional telephone service, with all the benefits and advantages that this entails.
It was  Skype, first from the hand of its creators and then from the hand of Microsoft,  the application that paved the way for seriously considering the possibility of  replacing part of the services offered by telephone operators with applications  that the user you could install on your computer and use it in the way that best suits you.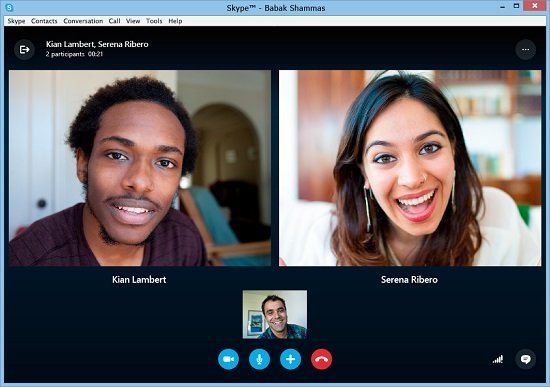 Hangouts was originally developed by Google to replace and unify services previously provided by Google Talk, Google+ Messenger, and Google+ Hangouts separately.
With the criteria of obtaining a greater market share and being able to offer users a reliable and modern communication system, Google put several teams of developers to work, who  used parts of the Google Talk code to create a new tool that in their In the beginning it would be known as Babble , but later it would be renamed Hangouts.
Over time,  Hangouts has become one of the most interesting messaging tools,  and the fact that it is cross-platform has a lot to do with this,  an option that other applications of its kind are not capable of offering,  at least in a direct.
Services and features offered by Hangouts
In addition to the excellent perspective of being multiplatform, with all that this means, Hangouts offers other equally interesting and useful features, such as the possibility of holding talks or conversations with the highest quality of video and voice, with up to 15 users in the web version or 10 from a smartphone, on a shared screen and with an encrypted connection.
The synchronization of calls is another of the best features of Hangouts, since it is ensured thanks to the fact that they are stored on the servers, which allows us to  start a conversation with a contact on the smartphone, continue it on the computer with Mac or Windows from work and finish it on your Android tablet or iPad.
Such is the degree of flexibility that Hangouts offers between different devices, a fact that its competitors don't even dream of.
Also,  and as with any other application of this type, through Hangouts we can receive, send and share emojis, photographs and gif images,  among other image formats, which will be stored in a special folder of photos on our Google+ profile.
However, we are only contemplating the tip of the iceberg, since Hangouts is a very powerful tool,  and it can be used in a wide range of areas such as teamwork,  where a characteristic of this type is crucial to carry out. projects and businesses.
In this sense, Google also offers the possibility of  adding different options such as document editing and other functions to make collaborative work more flexible and complement,  especially when those involved are very distant from each other.
Another area where Google Hangouts can be extremely useful is in the field of teaching, especially in distance classes.
This option, called  "Hangout On Air"  allows the teacher to teach a class to an unlimited number of students, regardless of their geographical location or time zone. All this through a personal page, Google+ or YouTube.
However,  Hangout On Air is  not limited to this sole function,  since it can also be used as a television channel , with the possibility of broadcasting live with our own content, which  can be stored on our YouTube channel.
Hangouts can also be useful in another hot trend: job interviews through videoconferencing. Popularized in the first instance by Skype , job interviews through this mode are a good alternative for both involved in it: Employer and applicant, since no time is wasted in transport or waiting to be attended, among others many advantages that the system offers.
In this sense,  the Google alternative allows us to hold remote job interviews  with the possibility of presenting documentation such as curriculum vitae of jobs carried out and similar directly on the screen while we carry out the interview.
For all that has been mentioned so far, Google Hangouts is undoubtedly a very complex communications tool, in the sense of the advantages that we can obtain from it, however, its use is simple,  an undoubtedly winning combination in the current market , both personal and professional.
If until now we had doubts about  replacing our favorite calling and video calling application, it  is the right time to migrate to Hangouts, which goes far beyond the emoticons that seem to be the main attraction of other applications of its kind to provide us with a Really helpful service and keeping up with current events.
Web hangouts
There is no doubt that in the war fought by large companies for control, or at least the largest market share, of the messaging and VoIP systems,  Google Hangouts has a huge preponderance and is one of the best. services we can count on. This is mainly due to the fact that Google developers are always improving and seeing how to add more functions or make existing ones more useful.
Well, now it's the turn of the web version of Hangouts,  a service that will allow us to use the application without installing the necessary plugin in the browser we use or being connected to Gmail or Google+. 
At first glance,  Hangouts for the web is a simple tool,  with a neat interface and wallpapers that change from time to time. However, this should not deceive us,  since underneath all this is the technology that only a giant like Google could implement,  and that is why it offers so many features that will be really very useful when communicating with our contacts. .
Using Hangouts for the web we can start conversations with multiple contacts at the same time, make group calls, audio calls and video conference calls, but it also allows us to talk or pass information with our friends and family through the reliable and safe, in addition to simple , chat system.
Once we access the site,  which we can do through any web browser, including Microsoft Edge, Mozilla Firefox and of course Google Chrome,  among others, and after accessing the service with our password and username, the first thing we do is We will see it will be the contact list, the one on the left of the interface.
Best of all, all we have to do to communicate with them is click on their name,  and the system will automatically display the related actions.
If we decide to start with a call, all we have to do is select the camera icon,  then accept that the software uses the computer's camera and everything is ready to start talking.  The same with the other communication options.
Some of the best  features of Hangouts for the web  are the ability to create groups, just as we do in Gmail and Google+. We can also  access the record of all our past text conversations and telephone numbers with which we have communicated,  which we can do simply by clicking on the option located on the side panel of the application.
We also have available the possibility of configuring a good number of options that will be very useful, such  as the option to activate and deactivate the sounds of notifications and manage the contacts that for some reason we have blocked.
Without a doubt, Hangouts for the web comes to fill a gap that the company had left aside, and through which at some point some of its competitors slipped.
Hangouts vs Facebook Messenger
Thanks to the services currently offered by social networks , which try to capture our attention so that we choose to become users , today we can take advantage of the possibility they offer us to keep in touch with our friends in real time,  through messaging services. snapshot.
Such is the case of Facebook, which for a long time has turned what in the past were private messages and the chat service  into a single window for sending messages, photos, videos, icons and even money, through development of the tool called Facebook Messenger.
For its part, Google also decided to individualize its Hangouts service from its social network,  since we remember that this service originated as part of Google+,  and today it can be used outside of the platform of said community. In this case, Google offers us the possibility through Hangouts to create chat groups in which up to 10 people can participate.
Due to the characteristics and functionalities that both services offer us,  it is not surprising that it is difficult for us to decide which is the best for us,  although we can always evaluate its usefulness by testing both, to finally decide on the one that best suits us. adjusts to our needs.
Here we precisely review some of the features that both services include,  in order to provide more information for you to make your decision . Of course, we must bear in mind that we can always continue using both, although of course, it is not the most comfortable.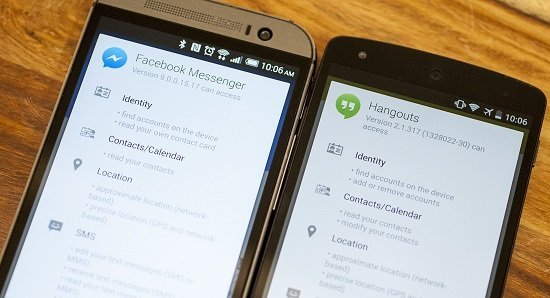 Video Calls: One Point for Google Hangouts
Although as we mentioned,  Hangouts in the beginning had been designed as an exclusive application for users of the social network Google+,  today everyone can take advantage of the advantages provided by this tool, which if we are users of the Chrome browser is the best option , since that integrates with the browser in an excellent way.
Undoubtedly,  beyond being an application that gives us the possibility of using it as a traditional instant messaging program  to send us text messages, photos, links and others with our contacts,  one of the greatest attractions of Hangouts is the group video conferencing.
Many users accustomed to the possibilities offered by Skype, despite its overcrowding and popularity around the world, have recently decided to turn to the use of Hangouts, and this is not a mere coincidence,  since the Google tool has a series of fantastic features that allow to establish even multi-party video calls with total stability, of  course, always depending on the bandwidth available to the user.
Among the advantages that can be mentioned in relation to video calls and video conferences through Hangouts,  resides in that when several users meet in the same video call, the application automatically detects the person who is speaking,  and places in the main window the video channel of that person, with which the rest of the users can listen and see said exhibition from the thumbnail position. When a new user starts speaking, they go to the main window, and so on.
This is one of the reasons why Hangouts has become the preferred tool for those who provide certain content through the platform,  such as talks, seminars, courses and press conferences.
On the other hand,  Google Hangouts has additional applications that can be installed,  and that give us the possibility to further customize video calls, such as its integration with YouTube, so that we can share a video with a single click, or  Draw, which we can use to draw on screen. 
We recommend: What is YouTube for >> EVERYTHING about this new platform 
Therefore, in the event that we need a solid, stable tool with various functionalities to carry out video calls,  Google Hangouts is undoubtedly the best option within the free services of its kind on the Internet.
Messages: A point for Facebook Messenger
Contrary to Google Hangouts,  in the case of Facebook Messenger the truth is that its strength is not precisely the video call,  and in this sense we must bear in mind that through the mobile phone app we can make video calls,  but they result from very poor quality and do not have interesting functionalities.
In addition, in the case of Messenger.com, the site does not support video calls, and  in order to make a video call with this platform from the PC,  we must go to the main Facebook page .
However,  although Facebook Messenger is not the ideal application for video calls,  and perhaps it does not try to be either,  the truth is that for the rest of the functionalities that an instant messaging tool should have, it is excellent.
This application allows us, among other things, both from its website and from the app for mobile devices, to initiate group conversations with friends, to be  able to tag these conversations with titles, to share photos, videos, links and more.
In addition, for those who like to add emoticons and stickers to their messages, Messenger takes the lead in this,  since it provides us with a much more extensive library than the one provided by Hangouts.
For example, in the case of the popular stickers, Messenger offers us larger images,  and also offers us the possibility of downloading free sticker packages by theme , in order to expand our personal library.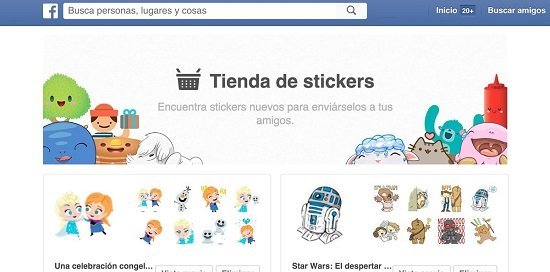 With regard to audio calls, like Hangouts, Facebook Messenger also includes this alternative, although this can only be done from the app for mobile devices, as it is not supported on its website.
Finally, with regard to Messenger,  one of the most notable advantages of the service is that it is a Facebook product fully integrated into the social network,  which is actually the most used worldwide, therefore that with Messenger we can have access and contact with millions and millions of active users around the planet.
In short, today practically everyone uses Facebook,  so they can comfortably use the service provided by Messenger,  while to a lesser extent people in the world choose Hangouts.
Hangouts vs Facebook Messenger: Conclusion
Beyond those exposed in this article, and although we could conclude by saying that  Facebook Messenger beats Google Hangouts due to the large number of features and tools available for instant communication,  and due to the fact that more people use it. actively around the world, the truth is that if we expect a complete service, which includes good quality video calls,  it is not advisable to opt for Messenger.
For this reason, the best thing here is for each user to evaluate the use they would make of an instant messaging service, and finally choose the one that best suits their needs. Generally speaking,  Google Hangouts is best at video calls, while Facebook Messenger is best at everything else.