What is an Adware? What types of adware are there? How to combat them?
In today's complex world of computing, and especially in what refers to the even more complicated universe of the Internet, where advertising and obtaining data from the users who use it are of primary interest to many companies , two forms coexist parallel software development that, in order to obtain profits, make use of an advertising technique called adware .
Basically, both techniques are based on showing us advertising of products and services of all kinds, however, this is not the first purpose of adware, since it has a deeper and more secret one: to collect our usage habits and purchasing habits. In this post we will learn everything there is to know to avoid adware and ensure that our data is not someone's merchandise.
What is an Adware?
Adware is the contraction of the Saxon term "Advertising-Supported software", and whose translation into Spanish would be "Programa Apoyado con Propaganda". An Adware is basically an application that bases its operation on the collection, through certain sites dedicated to this purpose, of advertising that will be executed after its installation, or that can be shown to the user during the execution of the program.
As we mentioned, two forms of so-called adware coexist. One of these ways of using Adware is understood by most users as one of the most important pillars that software developers have to financially support their projects, which are generally free and sometimes can also generate important earnings to the user of the same in their daily work.
The inclusion of this technique in said software is limited to the incorporation of a window or Pop-Up in which advertising is displayed in some angle of the application. It should be noted that in most cases the user can choose to acquire the license to use the application, and thus eliminate any trace of adware that the software used may incorporate.
Of this there are hundreds of examples in all operating systems, applications that allow the use of this software for free but with the inclusion of Adware. The users who usually use these applications do not pay any license for their use, but in exchange for the service we must accept the constant bombardment of large amounts of advertising that are displayed during the execution of the tool.
Regarding the types of ads that an adware usually displays by such software, these usually appear through intrusive windows on the screen and can appear when we are browsing the Internet or when we are working on any other task. The installation of toolbars for various purposes is also very common.
Another point to consider is the legality of the adware. Adware is legal if the user was informed at the time of installing the software. In addition to that, you will never be able to access personal information unless that indication has been clarified and you request permission to do so.
Therefore, as we will see later, adware may or may not be a threat depending on the mode of use that companies have.
How do you install an adware?
As we saw above, an adware is only used to display advertising, unlike a Spyware. Free or low-cost programs usually have advertising to earn some money without charging the user. In this way, the software becomes sponsored and will only serve as advertising to those who are interested in the products or services advertised. However, this does not mean that developers should go overboard with the amount or arrangement of advertisements they include in their apps.
Adware is usually embedded in software that the user wants to install on their computer. Most of the programs warn about this situation but there are some that do not, but they are still legal because they are part of the software package. However, companies that install Adware without authorization are frowned upon by users.
Is adware dangerous?
It is important to note that this type of advertising does not represent any type of damage to our computer equipment, nor does it represent a danger to the privacy of our personal information, since the aforementioned advertising contained in the adware of any of these applications only fulfills the function to promote products and services, and beyond that does not carry out any other activity.
This method of using the adware technique should not be confused with those softwares that aim, through the use of deceptive behavior, to attract unsuspecting users with the sole objective of raising funds for their own benefit without offering anything in return, and They may even be carriers of some kind of harmful or malicious code, the dreaded computer viruses, which affect our computer, as well as the privacy of our data.
However, we must be extremely cautious when installing software that includes advertising, mainly because it could lead to one of the so-called adware attacks, since like any other software, adware can be programmed by unscrupulous developers to resemble their behavior. to spyware, hiding in the operating system and thus avoiding its detection and subsequent elimination.
In this sense, an adware designed to deceive us can consume many computer resources, such as processing time, memory and Internet bandwidth, which are necessary for the user to work in peace. If the computer becomes slow, the first thing we have to be suspicious of is any new software that we may have installed, even more so if it is the adware type.
How to avoid Adware and Spyware?
In this part of the post we will review with more care what is the main function for which so-called adware are created, which are usually included in an infinity of programs that are distributed in totally free versions.
For the most part, it is about advertising that the user must endure while using the installed application, in exchange for being able to use it for free without having to pay for licenses, through which adware generally disappears.
However, so-called spyware can also coexist in the programs, whose function is focused on the collection of personal information from the user for commercial use, since this data will be used by companies to create personalized promotional strategies. In this way, the privacy of each individual is undermined, but with the consent of the individual, since in order for the spyware to be installed on the computer, in the first instance the user had to accept the agreement for the use of the software.
Therefore, we must always be vigilant when installing a new application on our computer, in order to ensure that we are not being victims of some type of commercial manipulation.
Currently, there is a wide variety of really useful programs for the user in the form of adware. On the other hand, there are also programs designed to help the user in finding and modifying adware programs, which make it possible to block the presentation of advertisements or eliminate spyware parts.
An example of this is the well-known and effective Spybot-S & D program! Also one of the most effective is Ad Aware, considered by many users to be the most complete of its kind.
Remove Adware with AdwCleaner
Adware is a threat to which we are exposed every time we surf the Internet, download content or install a program. Although today adware does not have the presence that it used to have years ago  thanks to advances in antivirus and antimalware technology,  the truth is that we can still infect ourselves,  and that is why we will need a tool with which to be protected . In this article  we will get to know one of the most effective antimalware applications,  which is also free.
In the market there is a lot of software that will help us to remain calm in the face of this scourge, but we must be very careful when choosing the right tool, since we can obtain the opposite result to what we expected, that is, the selected software is the one that we infect with adware.
This is due to the fact that many times the developers of this type of application  tend to finance their projects with methods that even border on the illegal.  Obviously we are not talking about all of them, since a lot of free software, such as  AdwCleaner , has been created to offer clean and safe protection,  without problems and without installing programs or hidden bars.
Getting to know AdwCleaner
AdwCleaner is an antiadware program  that stands out from the rest thanks to a couple of features that make it one of the ideal tools for  removing annoying adware. Compatible with the latest versions of Windows starting with XP, free and very easy to use, it is also portable, which means that we should not install it on the disk of our PC.
When we talk about simplicity of use,  AdwCleaner  is the best, since to control the program we only have two buttons that are used in series, that is, one after the other. They are:
The "Search" button   is in charge of starting the sequence,  as it will search our system for any symptoms of infection. Once this button has finished its task, we will receive a report on Notepad  notifying us of any suspicious items.
In the event that we  have received bad news and that our computer is infected with malware,  we must press the "Suppression" button  ,  which will begin the  process of eliminating said threats.
It should be noted that  AdwCleaner  requires that all applications that we have in use be closed, so it is necessary that  we save all our work to avoid complications.
A very useful feature that the program offers  is the possibility of deciding the elements to eliminate , something interesting in the event that one of these applications is useful to us, something rare indeed, but it can happen. To access it, we only have to click on the link  "?" located in the program menu bar.
Once we have finished with the task, it  is best to restart the computer for the changes to take effect.  It is also a good idea to carry out a second search, to verify that everything has been eliminated according to our requirements. As we can see in the image below,  the system has been completely clean of adware.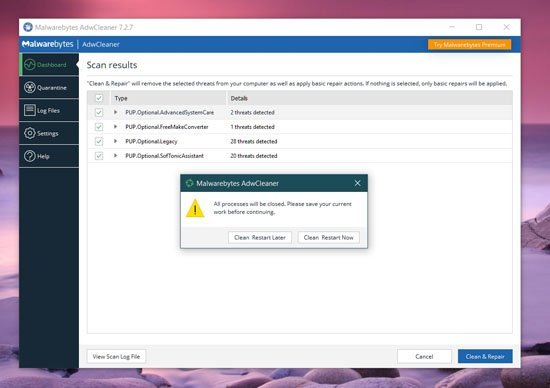 When we are completely sure that the threats have disappeared, we can press the "Uninstall" button   so that the program is removed from our computer.
AdwCleaner  is undoubtedly  one of the best adware removal tools  that we can find today,  and it has nothing to envy to other solutions of recognized names.
If you wish, you can  download AdwCleaner completely free of charge by clicking on this link .
Some tips to take care of adware
In order to protect the PC against adware that could be installed, it is recommended to periodically carry out the following steps:
It is advisable and effective in protecting against spyware that this class of programs may contain, 

the permanent update of antispyware or antiadware applications,

 as well as not forgetting to perform a system analysis regularly.

Another aspect to take into account, and which is usually beneficial for the health of our computer, is to make sure that 

the operating system, browser and email client software is covered by the

 most recent updates .

On the other hand, it is usually very useful to activate the firewall of our system every time we surf the Internet, in addition to using the protection against dangerous websites offered by the most modern browsers.