What is a webcam: Computer camera
Undoubtedly the term webcam has become in recent years one of the best known concepts in the world of computing and technology.
Currently, the idea of ​​having a computer and not having this device that allows you, among other things, to make video calls is unthinkable .
In this post we will tell you some of the most important aspects of the webcam .
What you will find here: What is the webcam and what it is for, the history of the webcam, how to test a webcam and much more. 
The webcam
Before we begin we must make a small clarification. A webcam or webcam are the same device, except that they are called in English and Spanish respectively.
Both terms serve interchangeably to define any camera that generates images  that can be accessed through an Internet server.
They can also be connected to the PC, generally through a USB port, and output your own images to the Internet.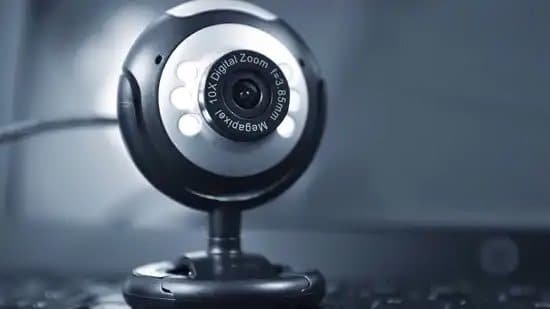 Essentially,  a webcam is a camera that is connected to a computer,  either directly or wirelessly. Its main function is to allow you to capture images that make remote viewing possible.
However, the possibilities offered by a webcam are widely used by all kinds of users around the world for different purposes. These devices can be used in practically any setting.
History of the webcam
The history of the webcam is short, but nonetheless eye-catching. This very important peripheral was born in the early 1990s in a university cloister, where else!
This first webcam was launched in 1991 by the Department of Informatics and Sciences at the University of Cambridge. What led these researchers to its creation? The urge to drink coffee.
The story goes that the computer science department of the University of Cambridge was located on the third floor, and if someone wanted to have a cup of coffee they had to move to the basement.
The problem was, there wasn't always coffee in that pot. For this reason, if you got out and the coffee maker was not ready, you had to make new coffee, and not everyone was willing to do such a job.
For this reason, two researchers from the center, Quentin Stafford-Fraser and Paul Jardetzky , tired of going downstairs and finding the coffee pot empty and having to make coffee, put together a plan.
This plan consisted of designing a client-server protocol called XCoffe, based on X-Windows. This was connected to a camera located in the coffee room. This camera transmitted images of the coffee maker at a resolution of 128 x 128 pixels at 1 frame per second.
With this they managed to know when was the precise moment to go down to the basement to find a coffee. But it also fulfilled another objective: to monitor those who emptied the coffee maker and did not refill it.
It did not take long for the first webcam based on this idea to be commercialized, as in 1992 the world's first webcam, called XCam, went on sale.
As a curious fact, it can be added that this coffee maker was sold on eBay years later for a value of 3,800 Euros. This piece of history was bought by Der Spiegel magazine to be exhibited at the German Museum of Technology in Berlin.
Thanks to this we now have this technology, but wasn't it easier to buy another coffee maker?
What is a webcam for?
From the moment they began to be commercialized, the use of webcams has been growing. These devices have been introduced into homes, businesses, public buildings, and even on the streets of the great cities of the world.
For this reason, they have become one of the most widely used computing devices on the planet for the most diverse uses.
In the case of home use,  the webcam is generally used to establish communications between relatives or friends  who are geographically distant. This is done by using a video calling program, such as Microsoft Skype , Zoom, or Meet.
Likewise, webcams are also being used for security, that is, so that users can remotely control what is happening at home. The truth is that the uses that can be given to a webcam are unlimited.
For businesses,  webcams are often used for video conferencing. With these devices, meetings can be held with all the members of the company present, regardless of where they are.
It is important to mention that webcam technology  is also used by a large number of public entities. Through webcams, these organizations are able to provide the population with access to a variety of information.
This information can be, for example, the prevailing weather conditions in the city, make inquiries in the form of video chat  and the state of traffic, among others.
There are even educational institutions that use webcams  to allow parents to see in real time what their children are doing while they are at school.
How does a webcam work?
Basically,  the webcam works by obtaining and capturing a series of digital images. These images are transmitted through the computer to a server, so that later the images can be viewed on a page using the Internet connection.
Of course, you will also be able to see what the webcam's image sensor captures directly on the screen of the PC to which it is connected.
Even today there are a large number of websites that allow you to upload and store your images captured with your webcam or mobile devices for free. The clearest example of this type of service is the popular YouTube.
It is important to mention that  webcams vary when it comes to their capabilities and features. Of course, these differences are also reflected in the price that each model has on the market.
In other words, the higher the resolution, which results in a higher quality video, the more expensive the webcam is.
In this sense, there are currently cameras that can satisfy all requirements. On online sales sites you can find webcams with resolutions up to 4K UHD.
These cameras have other features such as autofocus, surround sound, and field of view enhancements. You will also find lower resolution webcams and fewer options.
Of course, as we already mentioned, the prices of one type of camera and another will vary substantially.
Of course, it all depends on your real communication needs, the type of Internet connection you have and other factors such as your budget.
How to test a webcam?
Webcams, like many other devices, can present some problems. Most of them related to drivers or connection.
This as you know can bring you a lot of problems. In order to test your webcam, and thus be able to rule out problems related to the drivers or connection, there are two fairly simple ways to carry it out.
The first of these methods is the fastest.
Step 1
It consists of running the default Windows application, "Camera". In case it is not installed on your computer, you can download it from the Microsoft Store. It's free!
Step 2
Once you run it, if everything goes well you can see yourself on the monitor. If you have a device that has more than one camera, you can switch between them.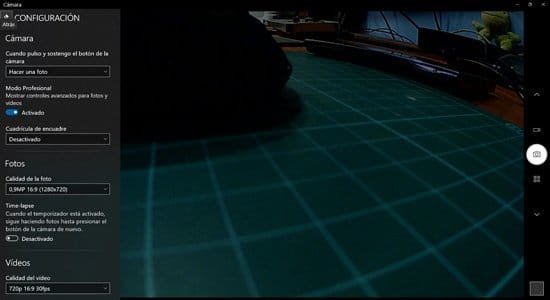 Step 3
Now, you press the "Settings" button. This is the gear-shaped icon located in the upper left corner of the interface.
There you will find some important data, such as the maximum resolution of which your camera is capable, and the quality of the video. In the case that you can't see yourself, obviously that means you have problems. A good way to start solving the problem is by consulting this article.
The other way to test a webcam is online. This is a bit more complicated, but thanks to the offer of services like this, you will be able to have more data.
In this sense, one of the pages to test a webcam from the Internet is Webcamtests. To access Webcamtests, you can click on this link.
Step 1
As soon as we access the page, you will have to wait for the site to search for your camera. This will be completed when a green message appears advising you that a camera has been detected.
Step 2
In order for the site to analyze the webcam, you must press the "Test My Cam" button, which will start the analysis. Before starting, the page will ask for your permission through a pop-up window.
Step 3
Press allow to start the analysis.
Step 4
After that, Webcamtests will begin to show you your webcam data such as image resolution, bit rate, brightness, luminosity and other technical information. These data will appear in the left column.
Guide to buying a Webcam
Developed to transmit sound and images over the internet in real time,  the webcam is an easily maneuverable accessory. However, before buying your next webcam you must take into account a number of factors.
One of the main aspects before the purchase will be to verify the  type of internet connection you use, since the quality of the most modern camera can be canceled by a bad connection.
Other options that differentiate these digital cameras , and that are sometimes confusing for most users, are:
Noise adjustment

FPS

Resolution

Digital or optical zoom

Autofocus

Automatic or manual brightness setting

3x to 15x zoom

Viewing angle from 50º to 360º

Special effects for creating a 3D avatar that mimics facial expressions
All of these options make choosing your next camera that much more difficult.
On the other hand, you should keep in mind that there are some characteristics that are essential in a good webcam.
For this reason, it is extremely necessary before choosing the model that you are going to acquire, to understand what each of the details of the product influences in order to choose the most suitable video camera for your computer. 
Here we explain what each of the acronyms that are usually printed on the webcam's packaging mean:
FPS (Frame Per Second)
The acronym FPS stands for the number of frames (scenes, images) that the camera can capture per second.
The higher the FPS number, the better the quality of image movement.  The ideal is 30 FPS. It should be noted that there are webcams that are capable of generating up to 60 FPS.
Along with the resolution, in order to achieve a good image quality with your webcam, it is also necessary to evaluate the speed measured in frames per second that it offers.
Ideally, the device should be capable of generating up to 30 frames per second, to prevent the moving image from being choppy  due to frames that the camera cannot display.
Microphone 
An interesting aspect is the inclusion in the webcam of a built-in microphone,  which offers an acceptable quality of audio, to avoid the use of separate microphones to the camera.
A built-in microphone can be more than useful when using the webcam for video conferencing or conversations over the Internet or sharing a live video on Facebook.
It is also more than necessary when you use your small camera or webcam installed on your laptop or cell phone as a camcorder to make your own videos.
Portability 
Many webcams today offer the possibility of taking videos or photos, even disconnected from the computer.
Therefore you should ensure at this point that it offers good storage capacity and battery performance.
software 
Each webcam model is accompanied by a suitable installation program for its use, including its drivers, which we will talk about below.
These apps usually offer some basic features, so if you're looking for something special, make sure the device can deliver.
This is because not all web cameras are compatible for use in video conferencing or security systems, for example. Analyze what you need and what the webcam can offer you.
Resolution
One of the first aspects that you should emphasize is the resolution offered by the webcam,  since this is where the image quality offered by this digital camera resides.
A few years ago, most of these devices had a standard resolution of 320 x 240 pixels.
However with the advancement of technology, and consumer demands, cameras that can reach resolutions up to UHD 4K at 60 FPS can now be purchased on the market . 
As with monitors and TVs, resolution indicates the number of dots (pixels) needed to form the image.
But, in this case, high definition is not highly recommended, as it generates very large, "heavy" files for virtual delivery, unless our connection is extremely fast.
In addition to very high resolution webcams, cheaper webcams are also available with these resolutions.
These are more common to find, cheaper and adapted for most applications:
640 × 480, generally low-end webcams. This resolution is suitable for most applications such as sending video and so on.

1280 × 720 and 1920×1080, cameras in the mid-range range. This resolution is indicated when we need to film or transmit video with good quality of detail.
If the camera accepts several resolutions, you will be able to choose the appropriate resolution for the task you are going to perform. Remember that the higher the resolution, the faster your internet connection should be.
If you are going to buy a webcam with a higher resolution, you must be extremely careful when purchasing the correct camera.
This is so since in the current market there are many models that, although they claim to be capable of such resolution, the truth is that they achieve it through the interpolation method. This means that said resolution is not obtained from the CMOS sensor, but through software.
Driver software 
This is the software that communicates the webcam with the PC and makes it possible to transmit the images captured by your webcam via the internet.
The refresh time of the frames varies according to the resolution of the camera and the speed of the internet connection. 
Therefore, another  really important factor to take into account is to acquire a webcam that works through standard software. This means that it is capable of working with a standard driver and that it is compatible with the version of your operating system.
It should be noted that such software must also have a specific application to control video recording and digital photography. In the event that the webcam does not include this type of app, don't worry.
Generally, any software can fulfill this task, as you can see below, where we have included a list of the best webcam apps.
Connection 
Ideally, it should include USB 2.0 type connectors,  which will allow us to communicate quickly and efficiently with the computer. 
However, it might be able to work with USB 3.0. In this case, if you don't have this type of port, the webcam will work the same, except perhaps slower or lower resolution in real time.
Webcams that work with wireless connection technology, such as Bluetooth, are also very useful  , which are usually ideal for videoconferencing and as a surveillance method.
Some models even offer the possibility of having a totally portable device,  which in addition to its conventional use as a webcam,  allows it to be used as a digital photo and video camera.
In short, choose cameras with  USB connection.  This makes data transmission faster and makes it easier to use.
In general, these models work automatically after they are connected, without the need for complex configurations.
Also check the system requirements indicated by the manufacturer to see if it is compatible with your PC. Examples of these requirements are hard drive space, processor, RAM, and operating system.
That is, if it can work with Windows 98, XP, Vista, 7, Windows 10, Linux or Mac.
The optics 
As for its components, a self-respecting webcam must include good quality optics, which offer the possibility of being used at different distances from the objects in focus, and in different lighting conditions.
At this point, it is worth mentioning that currently it is possible to acquire webcams that have a series of automatic functionalities to improve the captured image, and even the incorporation of an infrared viewfinder for night vision, thus adapting to any type of light condition.
Design 
Finally, we must evaluate the design of the device that best suits your needs.
Not only that it responds to your personal tastes, but also to specific aspects such as where you will place the camera.
When you have to choose the design of the webcam that you are going to buy, it  is essential to be clear about the location that we will give it within the context of our PC.
Ideally, place the webcam on the top of the monitor,  so the choice of device will depend on the type of monitor you have.
If the monitor is a normal size, there will be no problems, but if it is a screen of many inches it is possible that the webcam will be over your head.
The best programs for your webcam
As you have seen so far, cameras are undoubtedly one of the elements of the computer that have taken the most prominence today. So much so that they are already considered an indispensable device to face the needs of today's world.
To realize this, it is enough to observe that practically all the computing and communications devices that are manufactured today have a web camera.
In this sense, smartphones, tablets, notebooks and other devices  incorporate a camera to allow us to make videoconferences, film and take photos. 
These simple devices are no longer an element that only serves to  communicate with other people face to face through videoconferencing .
Thanks to the constant evolution of the technology behind these devices, such as the incorporation of HD CMOS sensors , today's webcams can offer incredible resolution.
This has led to being able to use them in a wide range of tasks, unthinkable when they were launched on the market.
The best webcam apps 
It is very likely that when you  bought your webcam,  it came packaged with a CD or DVD containing a program to use it.
However, this type of software is not always up to what you need as a user, or what the camera can offer.
For this reason it is really essential to find  other programs for webcam.
With them you can really get what you need and take advantage of all the benefits of your new webcam.
Therefore, below you will know the characteristics and advantages of the 5 best  programs for webcams on the market.
YouCam 9: One of the best 
The first of the programs evaluated here is  YouCam,  a software  specifically designed for the most modern versions of Windows , and that for that very reason makes the most of the interface.
Through this application you can  take photos and record videos,  but the best of all is that you will be able to improve them and decorate them with a large number of effects,  which you can see directly from the camera's viewfinder.
But without a doubt, the best feature is the visual way in which  YouCam 9 will  present the contents. YouCam 9 is undoubtedly the most appropriate alternative, especially if you have a high definition webcam.
If you wish, you can obtain more information about YouCam by clicking on  this link.
FLV Encoder: From your webcam to the world 
FLV Encoder  is perhaps one of the   most useful and interesting webcam tools on the market.
What does FLV Encoder offer you?
The possibility of  sending the videos you capture with your webcam over the Internet,  which turns your PC into a true  video server in FLV format.
But what makes  FLV Encoder  so interesting is that it is extremely simple to configure, the whole process is automatic, all you have to do is adjust the sample rate of the videos so as not to have problems with  the bandwidth of your network. computing.
If you wish, you can download and obtain more information about  FLV Encoder  by clicking on  this link.
Photo Booth for Windows 7: Facebook Instantly 
Photo Booth for Windows 7 is an excellent program with which you can  take pictures with the webcam and add more than 16 special effects, as  well as the very interesting possibility of uploading them to Facebook or Flickr with a single mouse movement.
Regarding its use, it is very easy to use: we just have to click on the camera icon and the photo will be ready.
The photographs that we have already taken will appear at the bottom of the program, which will allow us to select and store them on the PC  or send them to Facebook and Flickr in a very simple way.
Unfortunately, video recording is not supported,  but the possibility of uploading images to the  aforementioned social networks makes it a very interesting alternative.
If you want to download this app for free, click on this link.
Vitamin D: Watch the house with a webcam
Vitamin D  is one more valid alternative to today's very expensive surveillance systems.
Although it obviously cannot offer the same functionalities as a professional video surveillance system,  the truth is that with this software you will be able to set up, using a PC and a webcam, a simple and inexpensive surveillance system .
With this, you can have controlled and watched the part of the house that worries you the most.
Basically,  Vitamin D  is a surveillance system that allows you, through your PC and a webcam, to  detect any change that occurs in the environment  with great precision.
Vitamin D is divided into two panels:  In the first one, you will be able to see the signal and edit the surveillance configuration.
The parameters that we can adjust in this section are the search for movements in a specific area and the minimum size that it must have for the system to alert.
In the second panel we can find  a list with the events that the system has registered,  which you can see how many times you want and at practically any playback speed.
Likewise,  Vitamin D has the possibility of exporting these events in video with mp4 format,  which ensures that you can view them in any media player.
If you want to download VItamin D for free, you can do so by clicking on this link.
Logitech Capture: Best for Video Conferencing
Surely when you think about making a video conference,  the first thing that comes to mind is most likely  applications like Skype and Meet .
While they are some of the best in these types of services, they tend to offer such a significant number of features that you feel overwhelmed and want to get away from them.
Fortunately, in these cases, and especially for those users who only want to see the face of their interlocutor, we have  Logitech Capture.
This interesting app does not offer the heavy functionalities of the programs mentioned above,  making them a light, comfortable and easy-to-use tool for videoconferencing.
The best of all is that the user who owns a high resolution webcam, with  Logitech Capture  can take advantage of all the advantages that it can offer,  since it perfectly supports high resolution webcams.
However, users who do not have  a high definition webcam  will also be able to enjoy the features of  Logitech Capture .
This interesting webcam app offers some features such as the ability to overlay live text, shoot vertically for mobile content platforms, and much more.
5 Chrome app to apply effects to webcam photos 
The power of an image is much more significant than a thousand words, they say. And even more so if these images are manipulated to perfectly express what you want to say.
Today,  photos play a fundamental role in the relationships we have through social networks,  and we use them in a thousand different ways.
It is precisely this variety that leads us to find a way to do something different,  to show an image so that it lasts longer in the memory of friends or family  we have on Facebook, Instagram, Pinterest or any other social network.
In this sense, nothing better than having an application at hand  that helps you add an effect to these images,  a touch of humor or something that better reflects your state of mind.
And here we bring you  a selection of the best webcam applications for Google Chrome  to give a fun touch to the photos you upload to the networks.
However, they will also serve for those who wish to save them on their computer for the enjoyment of all those who accompany them at home.
As we mentioned,  all these applications are for the exclusive use of the Chrome browser , and can be installed through the  Chrome Store.
HDBooth 
Like the other applications evaluated in this article,  HDBooth also offers multiple effects and filters, as  well as an easy-to-use interface, but with the difference that this application has been designed to get the most out  of high definition webcams. .
Another interesting feature of this  retouching program for webcams  is that it allows you to instantly adjust the amount of screen tilt, that is, the viewing angle, which can result in an interesting composition.
If you wish, you can download  HDBooth for free  by clicking on  this link.
Webcam Toy 
Webcam Toy is a tool developed mainly to make capturing images from a webcam using Google Chrome  easy and fun.
For this reason the premise is ease of use. To make this happen, the developers have included a few keyboard shortcuts  and a neat and simple interface in the design of the application  .
But in addition to this, it offers you the possibility of  manipulating your photos  by applying more than 70 different effects, which we can modify to your liking. 
Once the task of retouching the photos is finished, they will be ready to be stored on the PC or to be  shared directly on social networks such as Facebook, Twitter and Tumblr.
If you wish, you can  download Webcam Toy for free  by clicking on  this link.
Comic Webcam 
This small free application allows you to  add more than 60 preset effects to your photos  while we are taking them with the webcam.
In addition to applying the effects,  Comic Webcam  allows you to  upload the treated photos directly to Facebook  or save them on your computer.
Comic Webcam  offers multiple customization options such as modifying the contrast, brightness and saturation, among others.
It also offers you the ability to select a particular effect and  perform a countdown to locate yourself and obtain an image with the designated effect.
Another very interesting point of this application is that it allows you to see previews of the effects in real time, which makes it easy for you to choose what you like the most without complications.
If you wish, you can  download Comic Webcam for free  by clicking on  this link.
Photo Rulez 
Foto Rulez  is another free application that will allow you to  take photos from the webcam from Chrome, as  well as giving you the possibility to modify them using more than 50 different effects.
The best thing about this application is its simplicity of use, since from its interface  you can apply these effects to the images while you are taking them.
Likewise, it is also capable of  importing photos from your computer .
This is an important feature that will make it easier for you to transform the images and turn them into true works of art worthy of sharing on the networks.
If you wish, you can  download Foto Rulez for free  by clicking on  this link.
Pixect 
With more than 120 effects at your disposal, in addition to a multi-frame capture mode, Pixect is one of the most complete  programs for manipulating webcam photos  that you can find on the market.
In addition to this,  Pixect  allows you to make collages,  import images from any location on your computer  and share them on the main social networks of the moment.