Ports and connectors of a computer
Some years ago, the only electrical appliances that we could find in a house, other than appliances, were televisions, radios, and VCRs. Currently, it is very common to find LCD TV, LED, Plasmas, DVD, computers, cell phones, consoles and Home Theater systems , among others. And it is logical that as equipment increases, the types of inputs and connections increase.
There are so many types, acronyms, names and variants of cables that exist in the market , and some of them are so complicated to really understand how they work, that if we disconnected them from our devices and put them in a box in order to return them to connect, we would be a week trying, and surely after many errors and tests.
If we add to the cables, which are strictly physical connections, the wireless type connections such as Bluetooth, infrared or WI-FI, a very difficult scenario to solve in the event of a problem is presented, even more so for newbies, for whom This post is precisely oriented, where you can find very useful information to connect devices and everything related to their connectors and cables.
Computer inputs and connectors
From this point on we will know everything related to computers and their connections, cables and connection ports.
Usb connector
It is a type of connection that allows the transfer of files between the computer and the device that is connected to the USB input. It is a simple connection, with the plug and play concept. USB connections transmit electricity,  avoiding the need to connect USB-connected devices to power.
This type of connection is highly compatible with devices and operating systems,  being compatible with Linux, MAC, Windows and even with televisions, sound equipment, DVD, etc.  The USB 2.0 standard increased the transmission speed from 1.5mb / second to 60mb / second.
Currently the most modern standard is USB 3.0, which can reach speeds of up to 4.8 Gbit / s or 600MB / s.
Firewire connector
It is a  connection standard for the transmission of audio and video.  It was created to solve the problem of the low speed of the USB 1.0 inputs, and  is widely used by camcorders and some digital cameras. Firewire inputs are more stable than normal USB inputs, making them ideal for streaming audio and video. It is widely used by video and audio editors, and for safe and fast transmission.
DVI connector
They are the  inputs commonly used in computers as video inputs. They only transmit images. The use of P-2 + P-2 cables is required for audio transmission. The maximum resolution transmitted is lower than that of HDMI, being the second best option for video transmission.
HDMI connector
They are the same entries cited above. Most modern monitors already have this audio and video transmission technology .
RGB / VGA connector
They are the common inputs that connect the video card to the monitor.  They are analog inputs that have lower definition than DVI or HDMI digital inputs. The VGA input can also be found in LCD televisions,  but not in cathode tube televisions, which use SVHS format, also analog and of lower quality.
Parallel port
It is a type of connection between peripherals and the computer,  commonly used with printers. The parallel port is made up of dozens of pins arranged in two horizontal lines that establish the connection between the peripheral and the computer.
Serial port
Along with the parallel port mentioned above, the serial port, better known as a COM port, is basically a data I / O port that can still be found on many computers, especially for connecting specialized computing equipment.
Technically, a COM port is a bidirectional serial interface that allows us to share, that is, to send and receive data bit by bit between the computer and the device connected to it. Although this type of communication is no longer as common for the average user as before, since the Serial port has been replaced by the USB standard, the truth is that it is still used in multiple implementations, especially to connect medical equipment, instruments and laboratory research devices and many other types of hardware.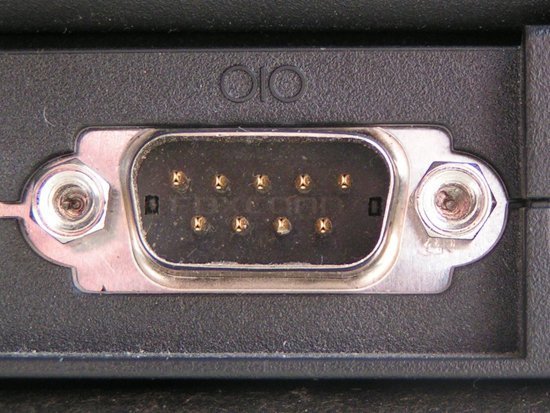 Also the serial port is maintained many times in order to offer compatibility with older hardware such as barcode scanners, CNC controlled machine tools and surveillance cameras, among other devices, which can be cumbersome to replace for reasons both economic as well as physical.
PS / 2 port
The PS / 2 port is a type of connection that, although it has become obsolete for most of the implementations of the average user, the truth is that we can still find it in most desktop-type computers.
This connection standard was widely used to connect the keyboard and mouse to our computer, but over the years the USB protocol, much more modern and flexible, was replaced. However, the PS / 2 port has not completely disappeared on our computers, as we can still find it, as we mentioned, on many modern motherboards, packed with USB 3.0 ports.
Despite its obsolescence, the PS / 2 port can be of extreme help in the event that our computer fails and we cannot access it through the USB ports for diagnosis and repair.
Ethernet or RJ45 port
The RJ45 port is the physical connector of the computer that allows us to connect, through a cable, to the LAN network or to the Internet, through a router or modem. Today it is one of the most widely used types of Internet and network connection in the world, mainly due to the ease with which it allows us to implement a network or connect to external resources.
Although the Ethernet connection has found a formidable competitor in wireless transmissions such as WiFi , the truth is that both systems can coexist, even on the same computer, since both have their own advantages and disadvantages, and that the user can count on both. technologies in the same team can be of great help.
Audio jacks
Many computer models usually come equipped with their own audio card, which provides us with Jack-type connectors that allow us to connect sound devices such as microphones, speakers and headphones. Most modern audio cards today are 5.1, and they implement a color code for each connector. In this sense, we have a green stereo connector for speaker output, a blue Line Out connector and a pink microphone input connector, which can be used to connect an audio system. multichannel if required.
Connections for TV, DVD, Blu-ray and others
In this section of the post, we will talk about connections on televisions, Blu-ray players, and other video equipment.
HDMI
HDMI input is a type of input found on newer televisions and some flat panel monitors. HDMI stands for High Definition Multimedia Interface. It is a digital input that integrates audio and video in a single cable, replacing the current colored cable inputs (one for audio and one for video). As HDMI video and audio connections are digital, the quality is higher, as it supports higher resolution than "normal" connections.
USB
Some newer models of flat screen televisions and some DVD players have USB inputs. These inputs allow direct connection to a computer or a device such as a pen drive or MP3 player.
Optical cable (fiber optic)
Optical cable is used to transmit digital audio (Dolby) through fiber optics. It is used in many DVDs and Home Theaters.
DVI (Digital Video Interface)
The DVI connection transmits data using an analog or digital signal, depending on the type of connection of the equipment. DVI connectors can be transformed into HDMI.
Headphone jack
Present in many modern televisions, the headphone jack allows us to listen to the sounds that our television reproduces through a pair of headphones, which allows us to enjoy our favorite content without disturbing anyone. It should be noted that also in this same connector we can plug an external audio system, such as a Bluetooth speaker or a stereo system.
Audio and video connectors on Divx Player or BR-Player
We continue in this section of the post with the connection characteristics that a Divx player should offer, that is, which are the audio and video connectors that a Divx player should include to take advantage of all its features.
It is important to highlight that, as we already mentioned in other sections of this post, the greater the number of connectors, the greater the interoperability that the new equipment will offer. Therefore, this  is a very important point to take into account when buying a Divx player. 
Analog Audio Connectors
In this section we will have to make sure, in the first instance, that the player offers outputs for decoded 5.1 multichannel audio.
This is easily verifiable with the naked eye, observing the back of the device and corroborating the existence of 6 RCA-type connectors,  which are identified as SL, SR, Center and Sub, or similar names.
With these connectors present, we will be sure of being able to enjoy all the surround sound contained in DVDs or AVIs that have this capacity, connecting directly to the Home Theater.
Regarding stereo or two-channel sound, which will be the type of sound used by television or audio equipment that does not have multichannel functionalities , it is generally present marked as L and R, or the FL and FR outputs of section 5.1.
Digital Audio Connectors
Although in order to enjoy optimal audio quality from our movies, the analog audio outputs of our player are more than enough for most Home Theaters and audio equipment in the market, the truth is that those who possess the equipment of Sophisticated audio such as AV receivers and others must have a digital audio output, an essential point if what you want is to be able to take full advantage of the audio capabilities of this type of equipment.
To do this, the player must have DTS Coaxial and DTS fiber optic digital audio outputs , to enjoy all the fullness of sound that formats such as DTS, True DTS-HD or DTS-ES can deliver .
It should be noted that in the current market there are some models of players with the capacity to perform the so-called Karaoke. For this they have a microphone input suitable for this activity. Although it is not essential, for singing lovers it is an option that should be taken into account.
Video connectors
In this section, we must take into account some considerations that have to do with the quality of the video delivered to the television by each of these types of connectors. There are three types of video connectors that our player must have , and we will order them according to the quality they can deliver:
Component video:  This type of connector  is the ideal way in which the video signal should be sent to the television, since it is the one that can deliver the highest image quality . This is the type of connection that must prevail given the image quality that it is capable of offering.
Generally marked on the rear panel of the player as Y-Pb-Pr  or similar designations, this type of connection offers three RCA terminals in Red, Blue and Green colors.
For a proper link with the television, we must look on the back of it for the equivalent connectors and connect them , obviously, in the same order.
S-Video : Also known as Separate-Video, it  is widely used especially in regards to video camera connections. This connector also offers good image quality, without reaching the Y-Pb-Pr standard , but it becomes an extremely useful element in the event that we have another device that makes use of the Y-Pb terminals connected to the television. -Pr.
Composite video : The lowest quality of the three types . This video output of the player is really very useful in the event that our television is an old model and does not have the S-Video or Y-Pb-Pr connections.
This terminal is of the RCA type and is generally yellow in color and is marked Composite on the back of the device.
On the market there are some player models that have a VGA-type output, suitable for connecting computer monitors.
If our requirements so request, we can choose one of the models that also include this option , however it is not essential for most users.